The IT Girl: 3 Steps to Find Career Options for Young Women in Tech (Paperback)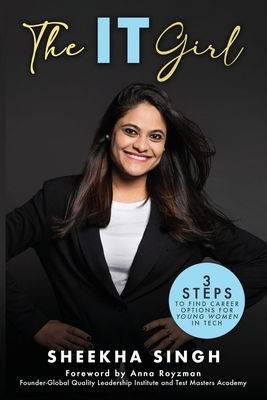 $18.00
Usually Ships in 1-5 Days
Description
---
Have you wondered if IT/Tech is more than just coding? Are you one of those who thinks that the tech field is difficult and meant for nerds? Are you a parent concerned about the future of your child and want them to consider a career in IT/Tech? Are you a woman already in tech and need to switch career paths? If yes, then this book is for you. This book debunks myths and helps young women choose a career in IT.
Today, women make up only twenty percent of engineering graduates, and an even smaller number, sixteen percent of the engineering workforce is made up of women. This book is intended to help young girls, working women, and parents.
In The IT Girl you will find:
A three-step process to help you find the tech job you would love the most.
A method to find your strengths, map your skills to an existing position, and find a career path in IT/Tech.
Overview of a role, skills required and salaries especially for computer careers that do not involve coding.
A list of 30+ jobs and their average salaries based on recent market data.($USD)
Why we need more women in technology.
Testimonials from successful women all around the world working in IT/Tech.