Sacred River: A Novel (Modern African Writing Series) (Paperback)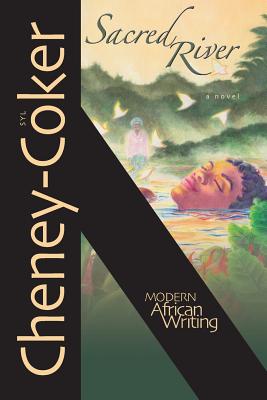 Email or call for price.
Usually Ships in 1-5 Days
Description
---
The reincarnation of a legendary nineteenth-century Caribbean emperor as a contemporary African leader is at the heart of this novel. Sacred River deals with the extraordinary lives, hopes, powerful myths, stories, and tragedies of the people of a modern West African nation. It is also the compelling love story of an idealistic philosophy professor and an ex-courtesan of incomparable beauty. Two hundred years after his death, the great Haitian emperor Henri Christophe miraculously appears in a dream to Tankor Satani, president of the fictional West African country of Kissi, with instructions for Tankor to continue Henri Christophe's rule, which had been interrupted by "that damned Napoleon."

Ambitious in scope, Sacred River is a diaspora-inspired novel, in which Cheney-Coker has tackled the major themes of politics, social strife, crime and punishment, and human frailty and redemption in Malagueta, the fictional, magical town and its surroundings first created by the author in The Last Harmattan of Alusine Dunbar, for which he was awarded the coveted Commonwealth Writers' Prize. Sacred River is equally about love and politics, and marks the return to fiction of one of Africa's major writers.
About the Author
---
Syl Cheney-Coker was born in Freetown, Sierra Leone, and is the author of five volumes of poetry, a collection of essays, and the novel The Last Harmattan of Alusine Dunbar, which won the Commonwealth Writers' Prize (Africa) and was named one of the "20th century's 100 best Africa books."

In 2000, Cheney-Coker was appointed the first writer-in-residence in the United States by The International Parliament of Writers, under its Cities of Refuge program. He has held other writer-in-residency positions and taught at universities in Africa, Asia, and the United States. He now divides his time between the United States and Sierra Leone.
Praise For…
---
"Sacred River is a novel of epic proportions powered by a microscopic gaze and magisterial sweep. Told with pain and passion, withering wit and satiric humor, this is a tale of these and other times: thronged, sensuous, cerebral, and visionary in the most unpredictable ways. There is magic in the telling, a magic wrought from the myths and legends of the African world, and facts which belie the strangest fiction. Sacred River reads like a magnificent poem with multiple chapters. A truly virtuoso achievement."—Niyi Osundare, award-winning poet and distinguished professor of English, University of New Orleans

"The novel fits easily into the post-independence disillusionment novel canon along with Achebe's A Man of the People, Armah's The Beautyful Ones Are Not Yet Born, and wa Thiong'o's Wizard of the Crow." —African Studies Quarterly

"Syl Cheney-Coker's beautifully written book explores life in a fictional West African country in all its pain, spirituality, and glory. The poetic lilt of the sentences combined with intertwining stories of suffering, hope, and historical allusions make for a breathtaking and thought-provoking read."—World Literature Today

"The promise and problems of postcolonial Africa mix with a rich tradition of mythology and magic in thissequel to The Last Harmattan of Alusine Dunbar (1990)…. Readers of this work, part of the publisher's Modern African Writing series, will be reminded of writers such as Gabriel García Márquez and Salman Rushdie." —Booklist

"This innovative epic by Sierra Leone native Cheney-Coker (The Last Harmattan of Alusine Dunbar) is firmly set in West Africa and features magical realism grounded in native myth…. Cheney-Coker's sweeping tale climaxes with the "sacred river," the spiritual center of the story, offering Yeama its healing and rejuvenating powers." —Publishers Weekly